Anti-Cyclin D1 MAb [Clone: DCS-6], Biotin conj. (Reactivity: Rat, Mouse, Non-Human Primates, Human) - 0.1 mg (Conc. 1 mg/ml)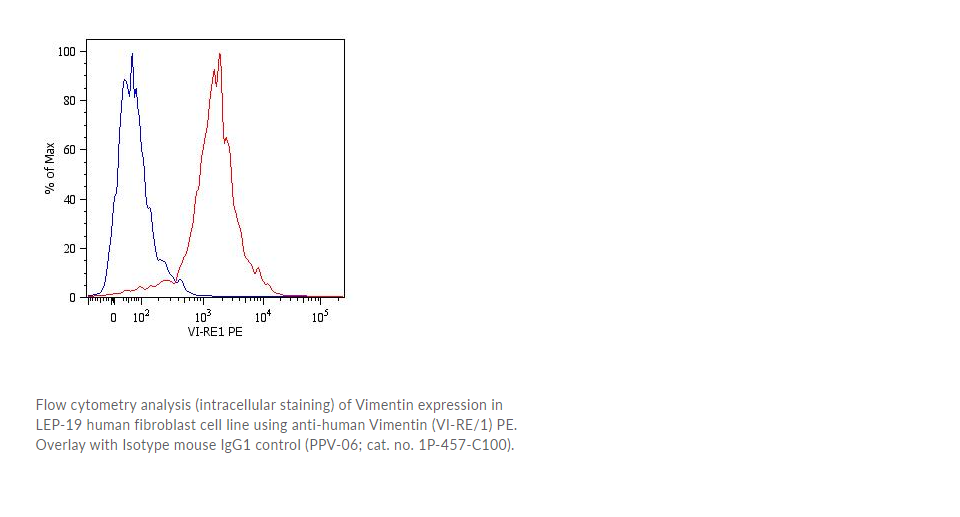 Anti-Cyclin D1 MAb [Clone: DCS-6], Biotin conj. (Reactivity: Rat, Mouse, Non-Human Primates, Human) - 0.1 mg (Conc. 1 mg/ml)
Antigen: Vimentin
Clone: VI-RE/1
Format: PE
Reactivity: Human
Application: FC (QC tested)
Application details: Flow cytometry: Recommended dilution: 1-5 μg/ml. Intracellular staining.

Excitation wavelength: blue (488 nm) 
Isotype: Mouse IgG1
Specificity: The antibody VI-RE/1 reacts with human vimentin, a 57 kDa intermediate filament intracellular protein expressed on a wide variety of mesenchymal and mesodermal cell types.
Immunogen: Bacterially expressed full-length human vimentin
Concentration: 0.1 mg/ml
Preparation: Purified antibody is conjugated with R-phycoerythrin (PE) under optimum conditions. Unconjugated antibody and free fluorochrome are removed by size-exclusion chromatography.
Formulation: Stabilizing phosphate buffered saline (PBS), pH 7.4, 15 mM sodium azide
Storage and handling: Store at 2-8°C. Protect from prolonged exposure to light. Do not freeze.