Human CD56 Monoclonal Antibody [Clone: MEM-188], APC conjugated - 100 tests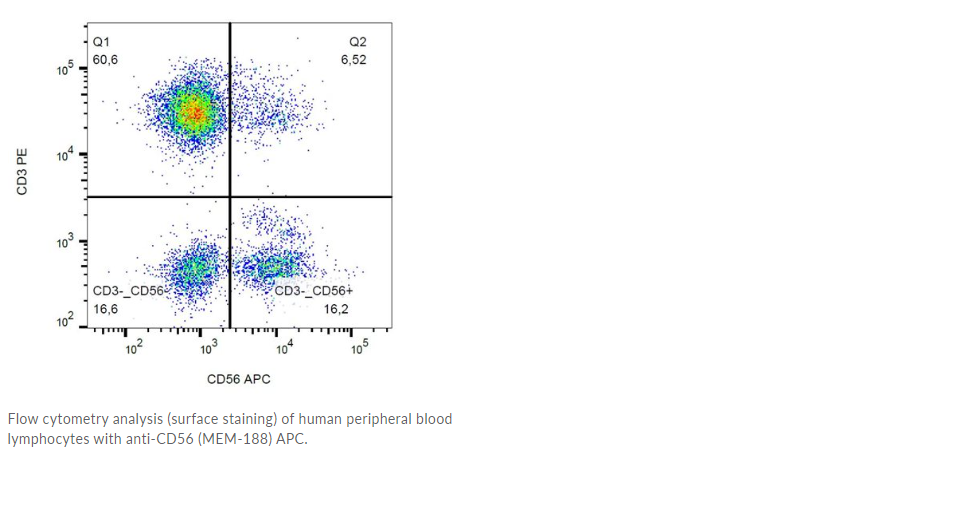 Human CD56 Monoclonal Antibody [Clone: MEM-188], APC conjugated - 100 tests
Antigen: HLA-G
Clone: MEM-G/9
Conjugation: FITC
Reactivity: Human
Application: FC (QC tested)
Excitation laser: blue (488 nm)
Isotype: Mouse IgG1
Specificity: The antibody MEM-G/9 reacts with an extracellular epitope on native form of human HLA-G1 on the cell surface as well as with soluble HLA-G5 isoform in its beta2-microglobulin associated form. Reactivity with HLA-G3 was also reported. The antibody MEM-G/9 is standard reagent thoroughly validated during 3rd International Conference on HLA-G (Paris, 2003).

Application details: Flow cytometry: Recommended dilution: 1-5 μg/ml; positive control: JEG-3 human choriocarcinoma cell line.
Immunogen: Recombinant human HLA-G refolded with beta2-microglobulin and peptide.
Concentration: 1 mg/ml
Preparation: Purified antibody is conjugated with fluorescein isothiocyanate (FITC) under optimum conditions and unconjugated antibody and free fluorochrome are removed by size-exclusion chromatography.
Formulation: Phosphate buffered saline (PBS), pH 7.4, 15 mM sodium azide
Storage and handling: Store at 2-8°C. Protect from prolonged exposure to light. Do not freeze.