Recombinant Pseudomonas aeruginosa Elastase (lasB) - 20 ug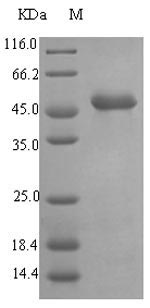 Recombinant Pseudomonas aeruginosa Elastase (lasB) - 20 ug
Purity: Greater than 90% as determined by SDS-PAGE.
Target Names: lasB
Uniprot No.: P14756
Alternative Names: lasB; PA3724Elastase; EC 3.4.24.26; Neutral metalloproteinase; PAE; Pseudolysin) [Cleaved into: Pro-elastase]
Species: Pseudomonas aeruginosa (strain ATCC 15692 / PAO1 / 1C / PRS 101 / LMG 12228)
Source: E.coli
Expression Region: 198-498aa
Target Protein Sequence: AEAGGPGGNQKIGKYTYGSDYGPLIVNDRCEMDDGNVITVDMNSSTDDSKTTPFRFACPTNTYKQVNGAYSPLNDAHFFGGVVFKLYRDWFGTSPLTHKLYMKVHYGRSVENAYWDGTAMLFGDGATMFYPLVSLDVAAHEVSHGFTEQNSGLIYRGQSGGMNEAFSDMAGEAAEFYMRGKNDFLIGYDIKKGSGALRYMDQPSRDGRSIDNASQYYNGIDVHHSSGVYNRAFYLLANSPGWDTRKAFEVFVDANRYYWTATSNYNSGACGVIRSAQNRNYSAADVTRAFSTVGVTCPSAL
Note: The complete sequence including tag sequence, target protein sequence and linker sequence could be provided upon request.
Mol. Weight: 49.1kDa
Protein Length: Full Length of Mature Protein
Tag Info: N-terminal 6xHis-SUMO-tagged
Form: Liquid or Lyophilized powder
Note: We will preferentially ship the format that we have in stock, however, if you have any special requirement for the format, please remark your requirement when placing the order, we will prepare according to your demand.
Buffer: If the delivery form is liquid, the default storage buffer is Tris/PBS-based buffer, 5%-50% glycerol.
Note: If you have any special requirement for the glycerol content, please remark when you place the order.
If the delivery form is lyophilized powder, the buffer before lyophilization is Tris/PBS-based buffer, 6% Trehalose, pH 8.0.