Rabbit anti-Homo sapiens (Human) CEBPB Polyclonal antibody - 100 uL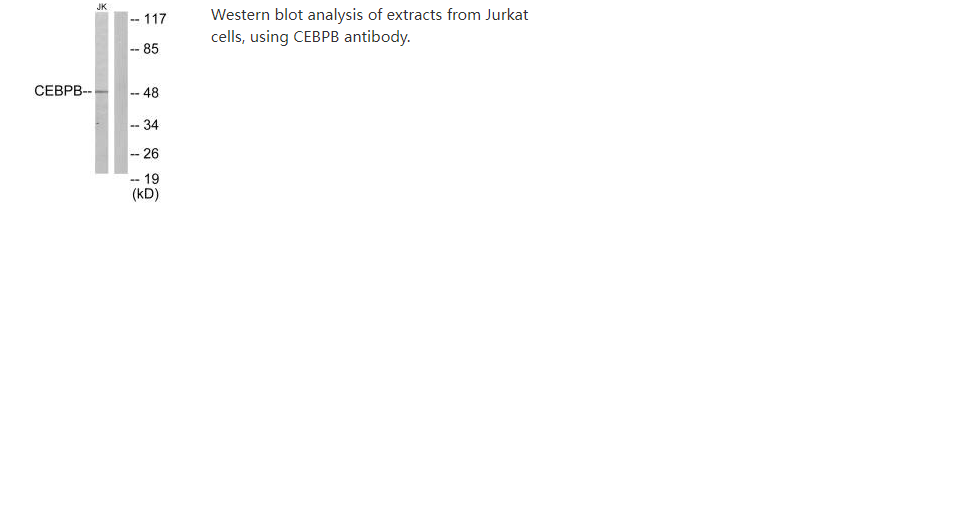 Rabbit anti-Homo sapiens (Human) CEBPB Polyclonal antibody - 100 uL
Storage: Upon receipt, store at -20°C or -80°C. Avoid repeated freeze.
Uniprot No.: P17676
Species ractivity: Homo sapiens (Human)

Immunogen: Synthesized peptide derived from internal of Human CEBPB.
Host: Rabbit
Species Reactivity: Human,Mouse
Specificity: The antibody detects endogenous levels of total CEBPB protein.
Tested Applications: ELISA, WB
Form: Rabbit IgG in phosphate buffered saline (without Mg2+ and Ca2+), pH 7.4, 150mM NaCl, 0.02% sodium azide and 50% glycerol.
Purification Method: Affinity-purified from rabbit antiserum by affinity chromatography using epitope-specific immunogen.
Clonality:  Polyclonal
Aliases: AGP/EBP; C/EBP beta; C/EBP-related protein 2; CCAAT/enhancer binding protein beta; CEBPB