(AXS-1114542) OptiPrep™ Density Gradient Media - 250mL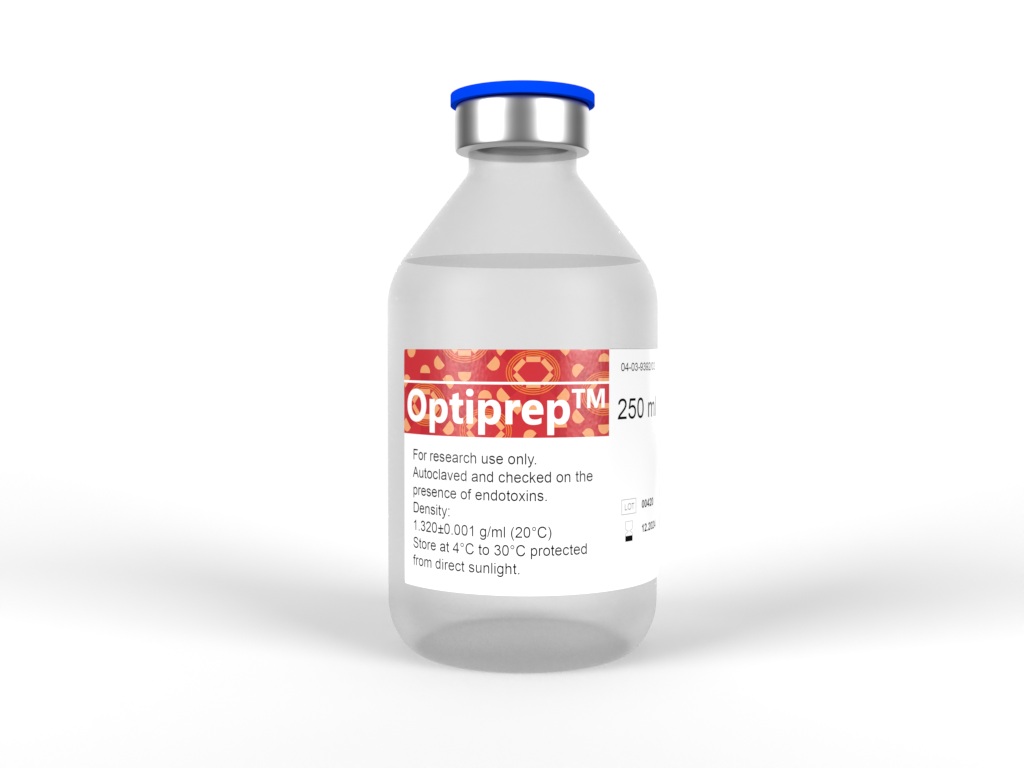 (AXS-1114542) OptiPrep™ Density Gradient Media - 250mL
Simplify the isolation and purification of macromolecules; viruses; a wide range of cell types; and organelles such as nuclei, mitochondria, endosomes, or exosomes by using OptiPrep™ medium. This flexible, versatile, and gentle density gradient medium is non-ionic, iodixanol-based (60% w/v) and has a density of 1.320 ± 0.001 g/mL. OptiPrep™ has been used clinically in X-ray contrast imaging and has been shown to have lower toxicity when compared to ionic gradient compounds such as metrizamide.

CONTAINS
• Iodixanol: 60% (w/v)
• Density: 1.320 ± 0.001 g/mL
CELL TYPE
Mononuclear Cells, Other
SPECIES
Human, Mouse, Rat, Non-Human Primate, Other
APPLICATION
Cell Isolation
BRAND
OptiPrep


Optiprep is a type of density gradient medium that is used in laboratory settings to separate cells or other biological particles based on their size and density. It is commonly used in a technique called density gradient centrifugation, which involves spinning a tube of Optiprep and other components at high speeds to create a gradient of increasing density. This gradient allows cells or other particles to be separated based on their density and size, with heavier or denser particles settling towards the bottom of the tube and lighter or less dense particles remaining towards the top.

Optiprep is a specific brand of density gradient medium that is made by Sigma-Aldrich, a company that specializes in supplying chemical, biological, and pharmaceutical products to researchers and other professionals. It is commonly used in a variety of applications, including blood transfusion, tissue culture, and gene expression analysis. Optiprep is also used in research and diagnostic laboratories to purify or isolate cells or other biological materials, such as viruses or proteins.
lymphoprep
Lymphoprep is a type of density gradient medium that is used in laboratory settings to separate cells.


OptiPrep™ is a sterile and endotoxin tested solution of 60% 
iodixanol in water with a density of 1.32 g/ml. 
Iodixanol was developed as an X-ray contrast medium an has therefore been subjected to rigorous clinical testing.
Iodixanol is non-ionic, non-toxic to cells and metabolically inert. 
Iodixanol solutions can be made isoosmotic at all useful densities.
Iodixanol solutions have low viscosity and osmolality. 
Actual endotoxin levels in each batch are usually measured at < 0.13 EU/ml.
The high density of OptiPrep™ facilitates the fractionation of cells by flotation from a dense load zone through either a continuous or discontinuous gradient or through a simple density barrier. 55 protocols available for cell isolation. 
Improved resolution of cell organelles. Low viscosity, isoosmotic gradients provide rapid and efficient separation of the major organelles in preformed gradients.